Bond Arms Cowboy Defender 410/45lc 3"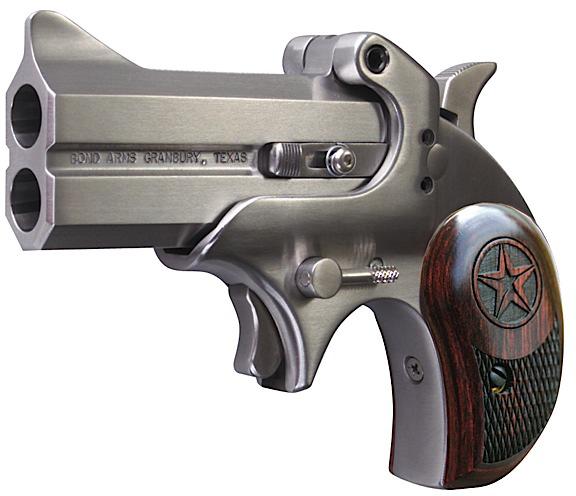 Currently Unavailable
MSRP

$49300

Restricted
Bond Arms Cowboy Defender 410/45LC 3" 2rd Lam Rosewood Grip Satin SS
The Cowboy Defender was designed for Cowboy Action or the most compact carry concealed .410 shotshell protection available. The overall appearance is similar to the Remington Double Derringer of the 1860's. The Cowboy Defender will accept all the extra interchangeable barrels.
Item Info
| | |
| --- | --- |
| Item | Available In Store |
| UPC | 855959001178 |
| Brand | Bond Arms |
| Model | Cowboy Defender |
| Mfg No | BACD45410 |
| Caliber | .45 Colt/.410 |
Tech Specs
| | |
| --- | --- |
| Type | Derringer |
| Action | Break Open |
| Barrel Length | 3" |
| Capacity | 2 |
| Safety | Crossbolt |
| Grips | Laminate Rosewood |
| Sights | Blade Front, Fixed Rear |
| Weight | 19 oz |
| Metal Finish | Stainless |
| Stock Material | Rosewood |
| OAL | 5" |
| Stock Finish | Satin |
| Stock Type | Pistol Grip |
| Purpose | Personal Protection |
| Series | Texas Defender/Cowboy Defender/Century 2000 Derringers |
| Product Model | Cowboy Defender |
| Finish | Ss |